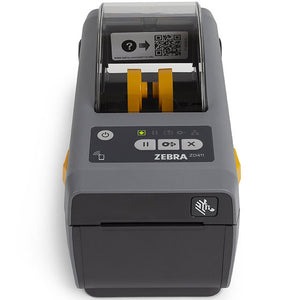 Zebra Basic Barcode Printer/Wireless (203dpi)
Zebra ZD4A022-D01W01EZ 2.2" 203 dpi Direct Thermal Desktop Printer, a printer that exceeds all possible expectations in performance and ergonomic experience. The ZD411D is easy to setup, fulfilling Zebra's intention to create a universal-use experience, along with being easy to operate, manage and maintain.
The ZD411D features a highly protective security system with PrintSecure, keeping your printer safe from cyberattacks. Upgrading from the previous ZD410, the ZD411D is versatile, offering for many different ways of configurability, with new media guides, adjustable sensors, and even more extra features than before. The Decision is simple, the ZD411D is made for the job.
What's Included:
Zebra ZD411D 2.2" 203 dpi Direct Thermal Desktop Printer with Tear Bar, USB, Bluetooth 4.1, 802.11AC Wi-Fi 5, Modular Connectivity Slot
USB Cable
AC Power Supply
US Power Cord
Zebra ZD4A022-D01W01EZ Printer Features
Resolution:

 

203 dpi/8 dots per mm
Memory:

 

512 MB Flash; 256 MB DDR3 SDRAM
Print Width:

 

2.2" (56mm)
Print Speed:

 

Up to 6 ips / 152mm per second maximum
Dual-wall frame construction
5 status icon, 3 button user interface
OpenACCESS for easy media loading
USB 2.0, USB Host, Bluetooth 4.1, 802.11AC WiFi 5, Modular Connectivity Slot
Direct Thermal
Tear Bar
8.6" L x 4.5" W x 6.0" H, 2.2 lbs
** ZEBRA AIT, PRINTER, ZD411, DT, 203 DPI, USB, USB HOST, MODULAR CONNECTIVITY SLOT, 802.11AC, BT4, USA/CANADA, US CORD, EZPL **